Lazada is one of the largest online shopping destinations here in the Philippines, it's my go-to place (and shopee) when I'm looking for stuff to buy. The platform has made it easy for millions of people to buy products online from different vendors around the world.
Lazada has also opened it doors for vendors to sell their products to the leading ecommerce platform in the Philippines.
Aside from selling products, Lazada also offers an affiliate program. People can promote products from Lazada and earn a commission. I am a part of this program and this is how it works:
What is Lazada Affiliate Program?
Lazada affiliate program offers a partnership program to publishers and help them earn commissions by promoting products on Lazada. There is no need to sell anything on Lazada to earn money from this program. The good thing is that you can promote any product that is on Lazada.
How to Start with Lazada Affiliate Program?
The first thing to do is to sign up with the Lazada Affiliate program, you can click here to sign up. You then need to wait 1-2 days for your application to be approved. You may start promoting products and generate commissions.

To receive your payout, you need to reach 1,200php of commissions and necessary documents. The documents are listed below:
For Individuals:
Valid government-issued id

Drivers License
Passport
Philhealth
SSS
Postal
Etc
Bank Certificate – this proves that you have an account with the bank that you have submitted. You can easily acquire this at your bank; in my case, I told the bank that I'll use it for Lazada online selling, and I think I paid 100-200 pesos for it.
BIR 2303 – This is where it gets hard; as of August 2020, Lazada has required its affiliates to provide a BIR 2303 certification. It's not that hard to get this one, but it may take some time.
Blank Copy of Official Receipt – Once you get your BIR 2303, you'll be able to provide official receipts.
For Companies
Certificate of incorporation
Bank certificate
Bir 2303
Blank Copy of Official OR
There is also an option for non-BIR registered affiliate members. It's by agency pass-through payment. In this method, Lazada will be the one to handle the taxes and government fees for your commissions. This is not an option before so I opt-in as an individual.
The Lazada Affiliate Program Dashboard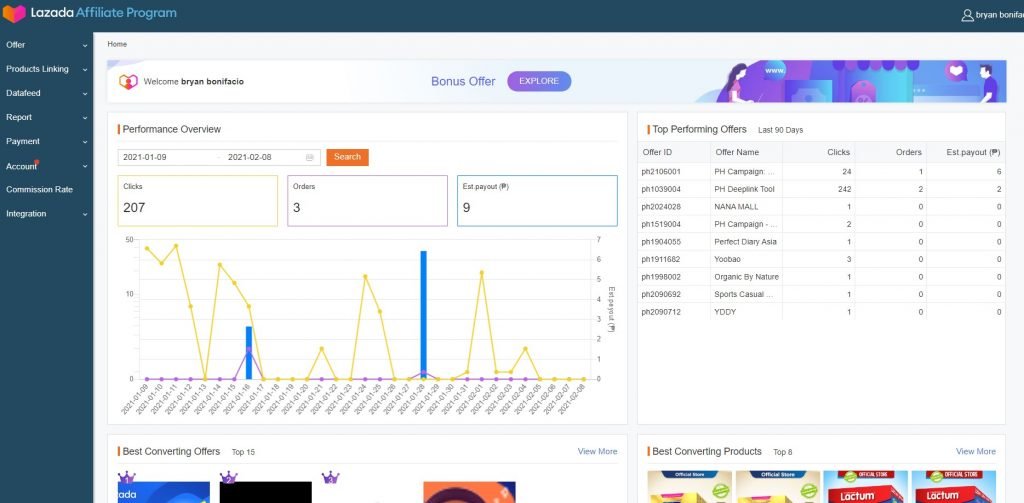 Once logged in, you can immediately see your performance overview, the top-performing offers, best-converting offers, and best converting products.
The tabs explained:
Offer – We can see the bonus offers and generic offers in this area. There are banners that are available to promote them.
Products Linking – Here, we can check out the hot products and products with high commission. You can also use the product link tab to search for products to promote and see the commission rate. You can choose the products you want to promote and click "get link" to start promoting the products.
Datafeed – We can generate a data feed which you can export via csv or tsv. You can choose between bonus commission feed, main feed, cross-border feed, campaign feed.
Report – In this area, you can view your conversion report and product links report.
Payment – We can see our monthly income and your invoice in this tab.
Commission Rate – You can check the current commission rates for web and app version of Lazada.
Account – Edit basic info, bank info, account type info and tax info.
Integration – More of the advanced stuff. There is an option to set up a postback macro, postback URL, and Open API.
How to generate a deeplink?
Generating a deeplink means that you can promote any product or any page you want from Lazada. This is a great feature of Lazada affiliate program, to be able to promote any product that is on the website. Here's how to do a Lazada affiliate deeplink:
First we'll look for a product that we want to promote. For example is this iPhone case I found on the homepage.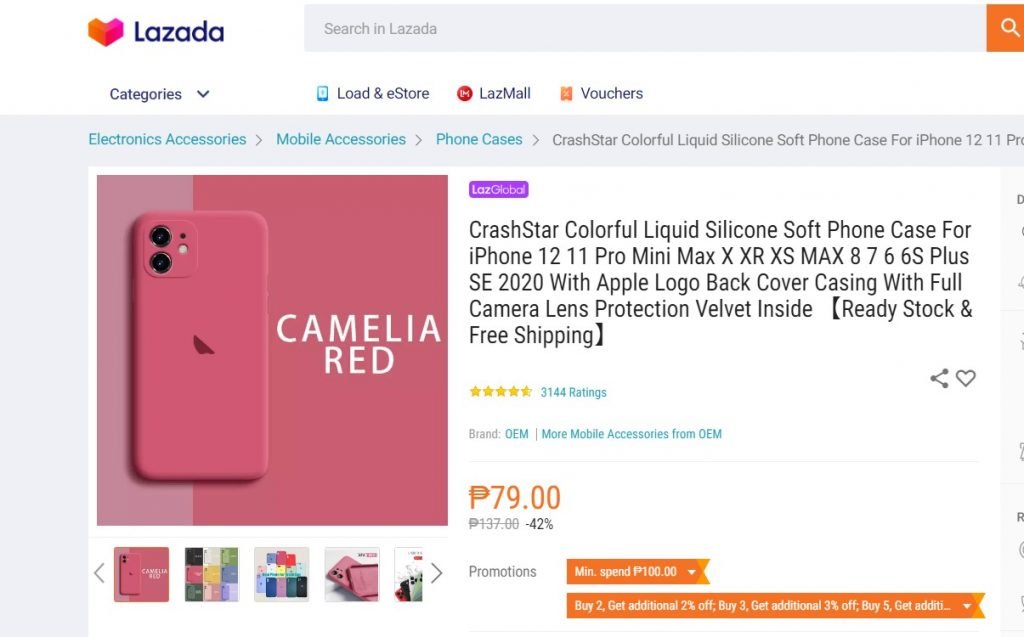 Next is we'll get the URL of this item. This is the URL of the product:
We'll only be needing up the .html part and discard the question mark and the extra text.
go to free formatter URL encoder
Add product URL and click encode.
Go to Lazada adsense dashboard and get the link from PH Deeplink tool. It's in the Offer> Generic offer.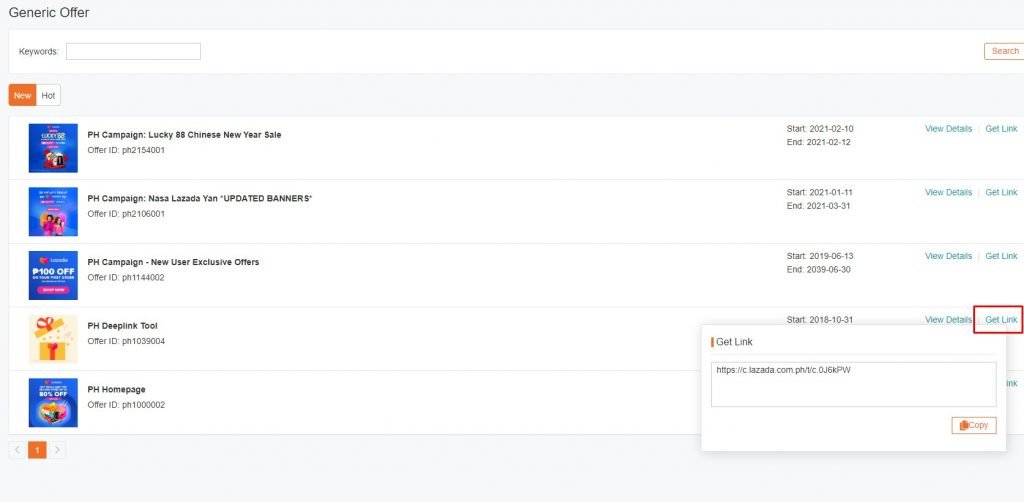 Get the your deeplink and ?url= at the end then add your product link so it will look like this:
https://c.lazada.com.ph/t/c.0J6kPW?url=https%3A%2F%2Fwww.lazada.com.ph%2Fproducts%2Fcrashstar-colorful-liquid-silicone-soft-phone-case-for-iphone-12-11-pro-mini-max-x-xr-xs-max-8-7-6-6s-plus-se-2020-with-apple-logo-back-cover-casing-with-full-camera-lens-protection-velvet-inside-ready-stock-free-shipping-i701458178-s2030250515.html
We can now spread this link and earn a commission when someone clicks the link and purchases the product. I usually shorten the link with bitly so it'll look better.
Lazada Affiliate Cookies and Tracking
There is a 30-day for web and 7-day commission tracking. This means that when a customer clicks the URL, there is a commission tracker installed in their browser or their mobile. We'll be able to earn if the customer purchases within the 30-day/7-day period.
The last affiliate link that is clicked by the customer will receive the commission. So if the customer has clicked your affiliate link and then clicked my affiliate link before the purchase, I'll get the commission.
Where to Promote?
There are a lot of channels to promote Lazada products. Just try and see which will work the best. It can be promoted through Youtube, Social media platforms like Facebook, Instagram, Twitter, and from a website as well.
I have been promoting it with one of my Facebook page, and I'll try to promote it more on different platforms.
How to get paid?
Once you reached 1,200php in commission, submitted your bank info and tax info, you'll be eligible for a payout. All payments are wired.
The payment tab in the dashboard is inaccurate so don't rely on that. There are also some delays on payment processing so be patient. Rest assured, everyone will get paid.
Conclusion
Lazada affiliate program is a great way to earn money. It's easy, doesn't require any capital to start, and everyone can do it.